Description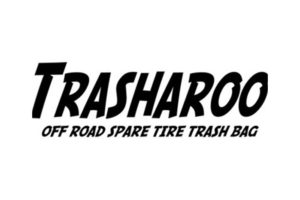 Trasharoo Gear-Bag Green
With high quality wide buckles, denier nylon, a heavy duty attachments and a positive closing cover, you can haul away all the rubbish you accumulate across a weekend without having to turn your vehicle into a landfill with the Trasharoo Gear-Bag Green.
Trasharoo has been extensively tested and has what it takes to survive the rigors of any kind of travel.
Trasharoo Gear-Bag Green Product Features:
Holds up to 22kg!
Made from heavy duty 900 denier canvas
Water resistant interior coating for bad weather
All buckles and straps are double stiched
Built in flap zipper gor storage of trash bags, gloves, straps ets
"X" strap keeps loads secure over thousands of miles
Drain holes for any unexpected leaks
Slide over nylon covers to protect buckles from UV rays and dirt
Mesh elastic pockets and molle straps for added storage
Fits a standard 110 liter trash bag
Drawstring to keep trash secured and prevent trash flying out
Designed to fit up to 40″ tyre
Trasharoo Gear-Bag Green Unlimited uses:
Store your wetsuit or surfing gear
Store your muddy wet weather boots and clothes
Carry fire wood and charcoal into camp
Store your off road recovery equipment
Keep young children's nappies/diapers outside your vehicle
Toy haulers
Free up more storage space inside your campervan or 4×4
Can be used as an emergency back pack
Carry camping chairs and fold away tables and your BBQ
Protect wild camping spots and green lanes by taking away other peoples rubbish.
For some more awesome adventure gear have a look here